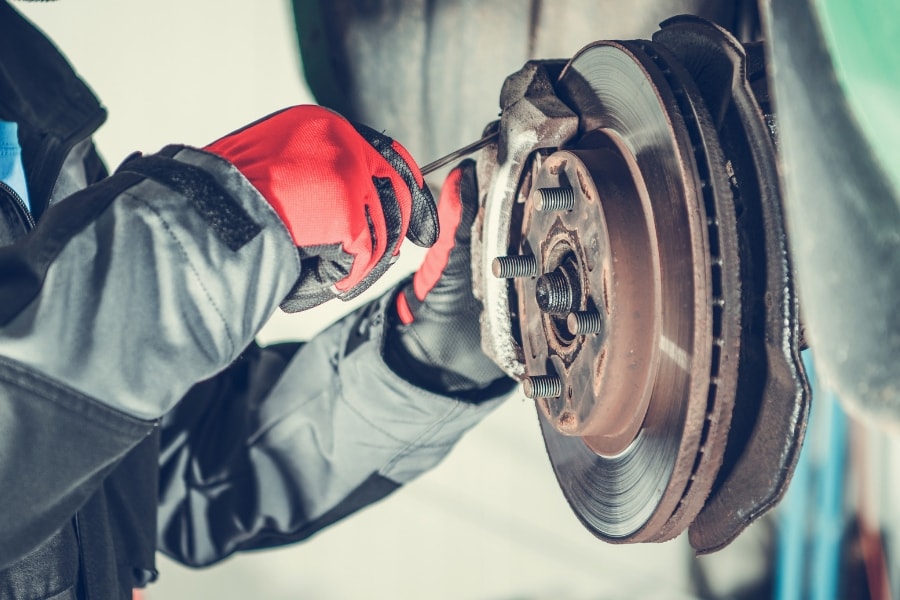 What Are Brake Pads?
Brakes are made up of a few different parts like the calipers, rotors, and brake pads. The rotors are a cylinder that is located at the center of the wheel. The calipers are a large clamp that pushes the brake pads against the rotors to stop the wheels from spinning. Brake pads are sheets of metallic material (usually, but sometimes rubber or glass) that are fixed to the rotor to create friction to stop the car from moving. The brake pads are going to wear down naturally as you press on the brake pedal when you drive. As your brake pads thin out and wear down, they will be less effective so you do need to get them replaced in order to be safe driving on the road. Also, check out our brake fluid exchange service to make sure your pads are pressing against your rotor efficiently!
When To Schedule Brake Pad Service
The schedule for changing your brake pads depends on a few different factors, but mostly on how much you drive. If you are not driving that often and therefore not braking, you likely will not have to schedule this service very many times. If you drive daily, then you are going to have to replace your pads more often. The manufacturer of your car is likely going to have a mileage suggestion when it comes to when you should be changing your brake pads. In some cases, brake pads come with a notch attached to them that will run against the rotor when the pad is too thin. This will cause the "squealing" you sometimes hear when people brake, which tells people it's time to change the brake pads. If you have any concerns about your brake system, you can simply have a brake pad inspection and find out if your brake pads need to be changed or if they are still safe to use. Making sure your brake pads are the right thickness is the easiest way to make sure your brakes are working properly and you will be safe while driving.